Luggage tags
I never had a lost item in an airport – or a cruise terminal, for that matter. But according to the World Tracer System for baggages, almost eight bags per a thousand passengers are mishandled, 24.1 million items in 2014. So, despite same incredible luck you might have (like I do), every time you take a flight, you have a 13 percent chance of something bad happening with your luggage. What is most common to happen is have your bag delayed, but damaged and lost bags are also a reality.
So, you close your bags, secure the lock in, place the tag and say a little prayer, wishing you'll see your stuff again. It's common sense, that's a necessary measure to identify and help protect your belongings. Thus, I think every person puts luggage tags in their bags. But, have you ever stop to think if you're writing the most assertive information on the luggage tag?
I'm sure you know name, phone number, email and home address. But have you ever thought that according to the information on your luggage tag you may not have your stuff for the rest of your vacation? If you have your bags mishandled leaving, for example, Heathrow in London, going to El Prat, Barcelona, and your address is in the UK, the company will ship your bags back home if you don't reclame it.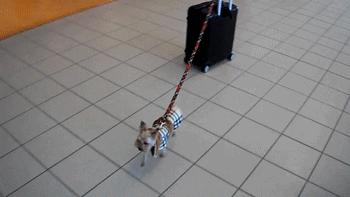 Senior advice
My grandma always says that you can't hope for heaven's help if you don't help yourself first. Luggage tags are a must and we, smart travelers, should make the most of it! You always have to identify your bags with the information that will be useful to contact you. Think about the phone number and the address that will be most appropriate in case of a situation like this. If you won't use your UK cellphone number in Spain, write down the hotel phone number. The same rule should be applied to addresses, wherever you'll be staying.
My recommendation is to travel with two – or multiple – luggage tags! I know, it might seem a little too much, but you would be carrying a little thingy and trying your best to beat the 13 percent statistic.
Photo: CalypsoCristal | Flickr
Another very important aspect of luggage tags: make it visible! If you have a bunch of air or cruise line luggage tags from your last flight or cruise, it's obviously harder to look after your information. Never let a bunch of unnecessary things get in the way of your safe bags!
A world of options
I never use those plastic types of luggage tags that you write down with a Sharpie, exactly because is hard to change the information. You would have to buy one for every vacation you take, considering you change the destination, and even if you're going to the same place (like Miami, a very popular cruise terminal), you probably change hotels! But that type of tag is the best for your home address – write it once and use it multiple times.
The type of luggage tags I like are the one you can change the piece of paper with your contact information. I write down the different information, put it in my wallet and change when necessary. For that, I prefer a leather (faux or not) luggage tag, so it lasts even longer than plastic.
Photo: Geneva Vanderzeil (apairandasparediy.com) | Flicker
Have a little fun with it!
You can even DIY! One of the best tutorials I've ever seen about luggage tags was by Becky and Kelsey from @TheSorryGirls. Two other very good tutorials from the Canadian girls are the Passport Cover and the Cords Holder, made with almost the same materials from the luggage tags. It's worth the try to get in the spirit of your next vacation! Happy travels, everyone!